The Despised of this World



"Where is the wise? where is the scribe? where is the disputer of this world? hath not God made foolish the wisdom of this world?" (1 Corinthians 1:20).

"For ye see your calling, brethren, how that not many wise men after the flesh, not many mighty, not many noble, are called: But God hath chosen the foolish things of the world to confound the wise; and God hath chosen the weak things of the world to confound the things which are mighty; And base things of the world, and things which are despised, hath God chosen, yea, and things which are not, to bring to nought things that are: That no flesh should glory in his presence.

"But of him are ye in Christ Jesus, who of God is made unto us wisdom, and righteousness, and sanctification, and redemption: That, according as it is written, He that glorieth, let him glory in the Lord." (1 Corinthians 1:26-31).

"At that time Jesus answered and said, I thank thee, O Father, Lord of heaven and earth, because thou hast hid these things from the wise and prudent, and hast revealed them unto babes." ( Matthew 11:25).

"In that hour Jesus rejoiced in spirit, and said, I thank thee, O Father, Lord of heaven and earth, that thou hast hid these things from the wise and prudent, and hast revealed them unto babes: even so, Father; for so it seemed good in thy sight." (Luke 10:21).

"Let the brother of low degree rejoice in that he is exalted: But the rich, in that he is made low: because as the flower of the grass he shall pass away." (James 1:9-10)

'Hearken, my beloved brethren, Hath not God chosen the poor of this world rich in faith, and heirs of the kingdom which he hath promised to them that love him?" (James 2:5).

God's ways are not our ways. What seem to be most valued assets in this world are not valued in God's kingdom. Paul said "not many wise men after the flesh, not many mighty and not many noble are called." But those that are wise, mighty or noble must become nothing in themselves.
"Let no man deceive himself. If any man among you seemeth to be wise in this world, let him become a fool, that he may be wise. For the wisdom of this world is foolishness with God. For it is written, He taketh the wise in their own craftiness. And again, The Lord knoweth the thoughts of the wise, that they are vain." (1 Corinthians 3:18-20).
Paul was highly educated and could have spoken with "excellency of speech and wisdom" but he said he "counted all things but loss for the excellency of the knowledge of Christ Jesus my Lord: for whom I have suffered the loss of all things, and do count them [but] dung, that I may win Christ," (Philippians 3:8)."And I, brethren, when I came to you, came not with excellency of speech or of wisdom, declaring unto you the testimony of God. For I determined not to know any thing among you, save Jesus Christ, and him crucified. And I was with you in weakness, and in fear, and in much trembling. And my speech and my preaching [was] not with enticing words of man's wisdom, but in demonstration of the Spirit and of power: That your faith should not stand in the wisdom of men, but in the power of God." (1 Corinthians 2:1-5).

Do we judge each other the same way the world judges, using the same measuring stick they use to determine worth? Do we "grade" each other out, making some more worthy than others depending on what is important to us? Do we want to be seen walking down the street with someone in rags? Do we care if they have the right hair cut? Are we embarrassed? What makes us like that? Is it pride?

James addresses some of this:
"My brethren, have not the faith of our Lord Jesus Christ, the Lord of glory, with respect of persons. For if there come unto your assembly a man with a gold ring, in goodly apparel, and there come in also a poor man in vile raiment; And ye have respect to him that weareth the gay clothing, and say unto him, Sit thou here in a good place; and say to the poor, Stand thou there, or sit here under my footstool: Are ye not then partial in yourselves, and are become judges of evil thoughts?

"Hearken, my beloved brethren, Hath not God chosen the poor of this world rich in faith, and heirs of the kingdom which he hath promised to them that love him? But ye have despised the poor. Do not rich men oppress you, and draw you before the judgment seats? Do not they blaspheme that worthy name by the which ye are called?

"If ye fulfil the royal law according to the scripture, Thou shalt love thy neighbour as thyself, ye do well: But if ye have respect to persons, ye commit sin, and are convinced of the law as transgressors." (James 2:1-9).
Zephaniah prophesied in chapter 3 verse 12, "I will also leave in the midst of thee an afflicted and poor people, and they shall trust in the name of the LORD." Wow, what a testimony, the poor and the weak shall TRUST IN THE NAME OF THE LORD. Would we not rather be poor and weak and have a testimony from the LORD saying we trust in His Name? No better place to be!

Would we rather be loved by this world's kingdom or loved of God in His Kingdom?
Coming out from the world and its ways has many aspects of which we have not always been aware of. Our thoughts and attitudes towards one another and of ourselves should be of the Lord and not by human reasonings, understandings or feelings. When we can see as the Lord sees, we will also love as He loves.

Reading the opening scriptures again, we can get a real picture of how much God loves those that seemingly have no earthly value; do we really want to be among the "abased" ones? Paul did!

The world admires greatness and those with talents and abilities, but Paul warned"...not to think of men above that which is written, that no one of you be puffed up for one against another." (1 Corinthians 4:6b) He was speaking of himself as well, not wanting to be praised as if he had anything of himself. He said "For who maketh thee to differ from another? And what hast thou that thou didst not receive? Now if thou didst receive it, why dost thou glory, as if thou hadst not received it?" (1 Corinthians 4:7).
"Only by pride cometh contention: but with the well advised is wisdom." (Proverbs 13:10).
Pride is an awful thing, if you could see it for what it really is, it would be a horrible thing to look at, a slimy cesspool of filth, but this is what the world runs on, it is the world's fuel. Pride fuels our selfish wills to fight against the Lord's will. Pride does not want to be seen as the "abased ones", pride causes embarrassments and hurt feelings to well up when it has been crossed.
"For I say, through the grace given unto me, to every man that is among you, not to think of himself more highly than he ought to think; but to think soberly, according as God hath dealt to every man the measure of faith." (Romans 12:3).
Pride can show up in many different places. If we are what the world would call inadequate in some area, we could become embarrassed or ashamed if these inabilities or short comings are seen by others. But let us remember, we are not of this world, ours is the Kingdom of God where these things do not matter, we are to be nothing in ourselves so He can be our all in all. The shame we may experience is nothing compared to the "glory which shall be revealed in us" (Romans 8:18b). All those in the Kingdom of God will see each other in the same way and not judge according to this world's standards.
"Let your conversation (manner of life) be without covetousness; and be content with such things as ye have: for he hath said, I will never leave thee, nor forsake thee." (Hebrews 13:5).
So let us learn to be content in our state, this is where the Lord would have us be. All these things are for a reason and the Lord has us in His hands. Those who are not wise, rich or talented must learn to depend on the Lord for everything they have or do, as Paul said "when I am weak, He is strong".

We have no ability to change this prideful Adamic nature in ourselves any more than a Leopard can change his spots; we can only try to control our response to it. But the Lord wants to remove it from us and replace it with His own nature if we will submit to Him and His will. He does it by bringing it to the surface with trials and tribulations in these areas so we can "see" how our pride has held us. Rather than condemning ourselves for our pride, let us see that it is the Lord working these things out in us and we are helpless to change it. As it shows up, submit to the Lord's leading, thanking Him for His dealing with us, give it to Him and ask Him to remove it from us and give us His nature in its place. This is His plan, this is what He wants to do in us. This is the salvation that must come from Him and is not of ourselves. The Lord will cause us to reflect His nature rather than our own, from glory to glory. This is part of what Paul was speaking about when He wrote "But we all, with open face beholding as in a glass the glory of the Lord, are changed into the same image from glory to glory, even as by the Spirit of the Lord." (2 Corinthians 3:18).

This salvation is a process, (from glory to glory), more of His glory in place or our own "glory". The meaning of glory can be summed up with "nature", "image" or "substance". The more we submit to Him in these trials and tribulations that come to us periodically exposing our fleshly nature; He will remove it and give us more of "Himself" in exchange, changing us more and more into His image.
"For our light affliction, which is but for a moment, worketh for us a far more exceeding and eternal weight of glory" (2 Corinthians 4:17).

"And he said unto me, My grace is sufficient for thee: for my strength is made perfect in weakness. Most gladly therefore will I rather glory in my infirmities, that the power of Christ may rest upon me." (2 Corinthians 12:9).

"Finally, my brethren, be strong in the Lord, and in the power of his might." (Ephesians 6:10).
B. Hayes
12/27/2010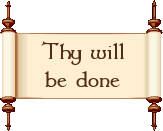 TO HOME PAGE