Sola Scriptura?
What is it, and why do people "fight" for it?



The phrase sola scriptura is from the Latin language meaning: "sola" - having the idea of "alone," "ground," "base," and the word "scriptura" - meaning "writings" referring to the Scriptures. Sola scriptura means that Scripture alone is authoritative for the faith and practice of the Christian. The Bible is complete, authoritative, and true, i.e. "closed canon".
While "All Scripture is God-breathed and is useful for teaching, rebuking, correcting and training in righteousness" these same scriptures do not support the idea of "scripture alone". The scriptures teach us that Christ is still alive today and is able to teach us and speak to us as clearly and as powerfully today as He did two thousand years ago.
"...from a child thou hast known the Holy Scriptures, which are able to make thee wise unto salvation through faith which is in Christ Jesus. All scripture is given by inspiration of God, and is profitable for doctrine, for reproof, for correction, for instruction in righteousness: that the man of God may be perfect, thoroughly furnished unto all good works". 2 Timothy3:15-17



This is the Scripture that is most usually used to support this belief. Those who would use this passage to advocate Sola Scriptura argue that this passage teaches the "all sufficiency" of Scripture because it says it is "thoroughly furnished unto all good works".




The scriptures Paul was referring to here was the Old Testament as the New Testament had not been written when Timothy was still a child, so if this passage is going to be used to set the limits on "inspired authority", the entire New Testament would have to be excluded.




Sola Scriptura teaches scriptures alone is the rock in which they stand and use only the scriptures to discern the truth with their own understanding but these very scriptures testifies against them saying Christ is The Word and He is the Rock and not the scriptures. (John 1:14, 1 Corinthians 10:4) I have read that there are over 30,000 different Christian sects today and this is the reason. Everyone views scripture through their own eyes rather than being led by the Holy Spirit. If it was meant to stand alone, why are there so many books to explain it and why can't all those that read it come to the same conclusions? Interesting to note that before the Bible was published in 1516 there was far less than 100 Christian sects. It took 1500 years to get 100 different sects, but only 500 years to get to 30,000, most of them strongly defending the doctrine of sola scriptura!




Let me be clear, this is not to take away from the inspired scriptures we are so blessed to have today. The Holy Spirit moved on men to write the scriptures speaking of Christ who is the Word. (John 5:39)(John 1:14) It is so precious when the Holy Spirit starts opening up the scriptures to us, shedding wonderful Light in our spirits. We can then truly understand and "see" with our spiritual "eyes" what the writer saw as the Holy Spirit inspired them to write it. Our spirits soar as we are in communion with the Holy Spirit seeing these things, a new Truth, a new Light that we had never seen before. This is one of the ways we hear His precious voice as he promised in John 10:4-5-27-28. We can also hear His voice in the same way while listening to a sermon or to a teacher, but it is the Holy Spirit i.e. the Spirit of Truth that is giving us Light.




But most importantly, He has the ability to speak directly into our spirits and show us His Truth even if we have no Bible available to us. He was able to speak to those in the Old Testament as He did to Abraham, Moses, David, etc. before there was any "word" written down. How much more is He able to us now if our spirits have been made alive (born again) and have available to us the Baptism of the Holy Spirit to led and guide us.




The scriptures without the Holy Spirit are just words written on paper, there is no life in them of themselves. Only Christ can give life, for He is the Life giver. He IS the Word. He is the Way, the Truth and the Life only HE can pierce and divide asunder of soul and spirit, and of the joints and marrow, and only HE is a discerner of the thoughts and intents of the heart, as Hebrews 4:12-13 says.




Jesus told His disciples that there was much more He had to say to them, but they were not able to hear it yet, they needed the Holy Spirit i.e. the Spirit of Truth to be able to "handle" those things. He does not tell them to studying the scriptures to learn of these things, yet when the Spirit of Truth came He was able to show them the true spiritual meaning of the scriptures as ONLY HE was able to do. Trying to do that in our flesh will only bring us under the law of sin and death.




There was none that was more schooled in the scriptures than Paul had been, yet through them, he felt justified in persecuting the Christians. It took Christ through the Spirit to teach him the truth. He spent three years alone in the wilderness and was taught by the Lord through the Spirit. He did not learn these things through the writing of the apostles that we are blessed to have today as scriptures, but directly through the Holy Spirit. But when he finally did meet with the apostles he found that what he had learned was confirmed in them.




In Acts chapter 10 starting in verse 9 we see the account of a great struggle Peter had. He had been shown a vision that was obviously contrary to the scripture he had known and faithfully followed. He had "doubted in himself" about this. But in the end he followed the leading of the Holy Spirit and in the process Peter learned the meaning of the vision. This would have been a stumbling block for those that hold to doctrine of "sola scriptura" which teaches them that it is the scriptures alone that is to guide them in these things. It would have required them to immediately declare the vision as being false not waiting on the Holy Spirit to speak, and would not have allowed them to follow His leading rather than the scriptures.




But Peter would have been in disobedience to the Lord if he followed what he "knew" of the scriptures and had not followed the leading of the Holy Spirit. Much damage has been done today with this type of teaching.




But, Peter had an advantage; he had seen Jesus do this very kind of thing time and time again. There are countless times that it "seemed" like Jesus was disobeying scripture. They did not understand that those things that where once done in the flesh in the Old Testament were just "pictures" of what is now being done in the Spirit. Your mind can not understand this, it is only spiritually understood. Only the Spirit of Truth can open this up to any of us. This is still happening today with the New Testament...they think they know exactly what it is saying...it is so "clearly written", but miss completely the intent of the Holy Spirit at the time it was written. Again, much damage has been done because of it. Over 30,000 different "ideas" of what it all means...when we have the Holy Spirit that could make it all so clear to us, if we would just TRUST HIM and let Him lead us rather than the "letter" that "killeth". "Who also hath made us able ministers of the new testament; not of the letter, but of the spirit: for the letter killeth, but the spirit giveth life." - (2 Corinthians 3:6 KJV)




Paul said in Romans 8:14 "For as many as are led by the Spirit of God, they are the sons of God". It is clear in the scriptures that we are to be led by the Spirit of God and not in the scriptures themselves. The scriptures are a witness of the Spirit and written by Him, but it is NOT the Spirit.




Those that would stand on scripture alone would rather follow a set of laws found in them rather than submitting their lives and their wills to the Lord to be led by Him, in this way it is easier, it doesn't cost them as much. They cannot hear a clear word from the Lord because their own fleshly/carnal life drowns out the voice of the Lord. To be led by the Spirit, one must be willing to die to their fleshly/carnal life submitting their own will to the Lord with its wants and desires, leaning not on their own understanding any more but trusting only in the Lord for His guidance. Then He is able to reveal truth to them by His Spirit and open up the scriptures to them and He will lead them in His paths.




Those that subscribe to the views of sola scriptura do not believe that Lord will continue to speak a pure word to His people today. It is said by them that anything the Lord has to say He has already said in the scriptures and it is "closed now". They believe there will be no more inspired word from the Holy Spirit. While it is true that types and shadows of the truth are in the scriptures but not all have been expounded or understood through the Holy Spirit yet. To believe that we now know everything there is to know about the Lord and His scriptures is not true. If John 21:25 says the world could not hold in books all the things Jesus did, how much more can they not in the natural hold all there is to know about him? But through the Spirit, He able to continue to shade light to us, precept upon precept as he did with the apostles in the first century.




As stated above, any servant of the Lord that would be willing to die to self and all pride, and die to their own thoughts, wants and desires, as Paul did, the Lord is able to bring forth a pure word through them. The reason it is not done or "seen" as much in today's "Christianity" is not because the Lord would not do it (or has become too weak to do so), it is because there has been no death to self and putting aside all wants and desires apart from what the Lord would give them. And when they do see a pure word spoken through the Holy Spirit they do not believe it and want to "crucify" those that it came by because they have nothing to discern it with, they choose to be led by the "letter" rather than the Holy Spirit in the exact same way the Pharisees did. That is exactly what Jesus said they would do.




These "Christians" only "see" their own inabilities and make judgments on that, no faith that the Lord is able to conquer their flesh and bring them into perfection hearing His voice clearly and following Him. They then turn and judge other people in this same way. They cannot afford to believe others can come to this place in the Lord; it would expose their own shallowness.




This is the same sin of unbelief that the Children of Israel had. They did not trust in God and could not believe that through God they could conquer their enemies and enter into the Land of Canaan where milk and honey flowed. God was angry with them and they had to spend 40 years in the wilderness because of it. Important to remember that all those that did not believe, died in the wilderness and never entered into the Promised Land.



B. Hayes
10/17/2010



Related Articles

God's Purpose in the Scriptures

CHRIST Exalted Into His THRONE and the SCRIPTURE Owned in its Place

Following Christ Unto Salvation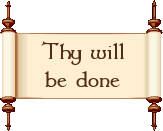 BACK TO HOME